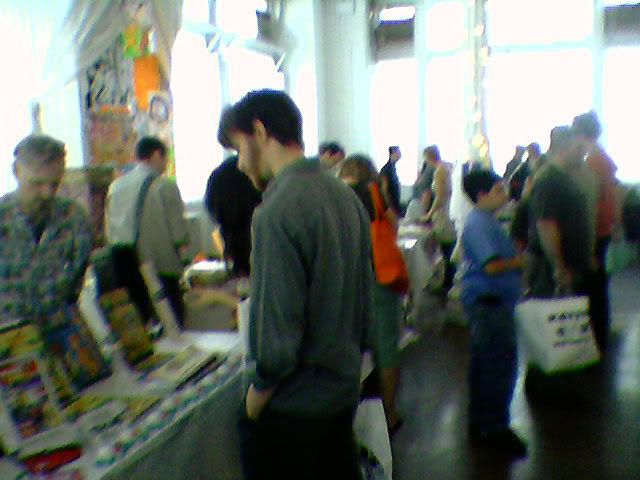 Saturday was spent at
MoCCA con
in New York City. The
Museum of Comic and Cartoon Art
holds a 2 Day convention that is tailored to the alternative comics scene which affords an entirely different vibe than your usual Wizard World fare. No wrestlers, no porn stars, and about half in attendance AND exhibiting are female.
We attended 2 panels, "Paul Karasik on Fletcher Hanks" and the "Drawn and Quarterly Cartoonist's Showcase."
Karasik
is known most prominently for his work on Paul Auster's
CITY OF GLASS
, a translation he worked on with David Mazzucchelli. Paul's lecture was both hilarious and enlightening while discussing the subject matter of his latest book, the golden age cartoonist
Fletcher Hanks
. The over-the-top stupidity (I'm using this word because Karasik used it in his description) of Hanks' works is something to admire in the vein of Ed Wood – a comparison drawn upon by Karasik himself as well.
The
Drawn and Quarterly
panel consisted of
Gabriele Bell
and
Anders Nilsen
; both used a slide projector to present one of their cartoons.
Kevin Huezinga
was also on the bill but he was unable to attend which rather upset me because it was rumored that he was going to present a story from CURSES – a book I read and enjoyed. Bell's story even had sound effects provided by a friend. I was not familiar with Bell prior to this but her major work is the full-sized comic LUCKY and her contribution to the monthly anthology MOME. Nilson is someone I hold close to my heart, as it is the first alternative comic my boyfriend recommended and I read in its entirety. Anders also contributes regularly to MOME.
The panels were held at the museum proper; the space is both impressive and depressingly small. I admired the diversity of the crowd; it was more like attending an art gallery show than a comic book panel. These people obviously see comics as an intelligent art form and that is something that mainstream comics can learn something from.
Some mainstream names were spotted at the con as well: Bob Schrek (DC Exec) and Will Denis (editor at Vertigo) were floating around,
Brian Wood
(DMZ) was set up as well.
We ended the evening at "The Dangerous MoCCA After Party" @ R BAR in support of dear friend Rob Reilly, who contributed to the comic, MAULED #4 by
Manual Comics
.
Kaiju Big Battel
co-hosted the party so the bar TV's were broadcasting some live Kaiju action and one half of the tag team Los Plantanos made an appearance.
All in all, a great and eventful experience. We're already planning for next year's MoCCA. It'll be a lovely weekend in NYC – shall we plan for it kittlings?
==========
My GALACTUS intrigue continues, I have moved onto PARABLE by Stan Lee and
Moebius
. This is a SILVER SURFER story and I was wholly impressed by this Prestige Format story; both Lee and Moebius exhibit their mastery of this particular comic book format. Moebius' use of color and refined simplicity of his faces and expressions actually produces a calming effect on me despite the subject matter. Galactus is letting helicopters plummet blindly to earth and all I can think is "pretty colors man, so nice and soothing to look at!" This may be a weird recommendation for a comic book but you will not be disappointed. Lee's story is biblical in its nature and just as interesting as Moebius' art.