I recently received a tidy little promotion in my day job (read: office drone; business goth) and have been given a spiffy title of "in-house representative" and shipped off to New York. Working in NYC has always been on my list of things "to-do" as it provided me with more opportunities to get along with my comic book brethren known as the
FOO
(The
Mike Oeming
message board).
So last Tuesday marked my first visit to
Comic Book Club
@ the
People's Improv Theater
, a mere 2 blocks from Penn Station. A live show done i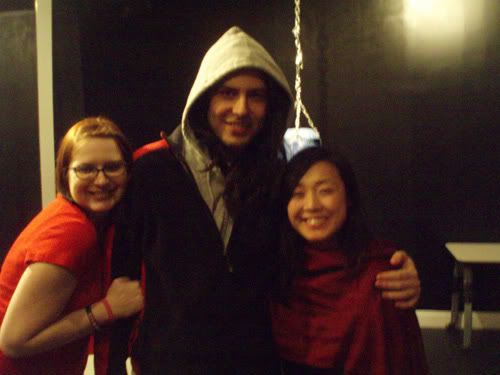 n talk show format, this weekly comic book centered live show offers fanboys and girls alike the chance to see their favorite creators in an intimate setting talking about not only the most recent comic book scoop as well as pop culture topics alike.
I went especially to see my dear pal
Mike Oeming
, and a list of virtual comic book indie/
Oeming
board royalty came out to see Mike on the show - such artists as
ZeeS
and
Taki Soma
,
Marvel
Editor
Jen Grunwald
, musician
Jef UK
and writer of
Silent Devil
's
The Last Sin of Mark Grimm
M. Sean McManus
. And that was just the audience! On the panel was not only
Mr. Oeming
but the most rockin'
ANDREW WK
, amazing performer as witnessed by yours truly at a pas
t Ozz Fest
.
The show was funny, offering both self-promotion for the panel as well as each guest's opinion on the newest comics of the week. If I can recommend a cheap outing in NYC that provides both fun and variety, it would be
Comic Book Club
. Check out their web site for upcoming guests!!!!
http://www.popcultureshock.com/cbclub/
(((PICTURED: Mary E Brickthrower, Andrew WK and Taki Soma)))
======
~Till Next Time Kittlings.